After the Google Reader funeral many of us turned to Feedly to host our blog feeds and RSS subscriptions. Considering how many people are using Feedly now, it might be wise to add a Feedly button to your blog or website to encourage readers to directly subscribe to you on that service too. Providing users a button that makes it easy for readers to follow you on Feedly is different than sending readers to a raw RSS feed or something syndicated to Feedburner. Instead of requiring readers to manually paste your URL into their Feedly accounts or find the service in some crazy dropdown, readers can simply click your follow button and be on their way. Another useful feature of the Feedly follow button is that it doesn't require you to remove other RSS buttons; as you can see from our "Show DashBurst Love" sidebar module to the right, the Feedly follow button was neatly added to our display and now helps boost new readers for our blog on Feedly.
So why not add a Feedly button to your blog to potentially increase your traffic?
Step 2: Insert your feed URL
Need help determining your feed URL? You can find your feed URL here.
Step 3: Copy and embed the HTML code snippet
Grab the code and paste it into the html of your website and the button you chose will appear, much like the button below: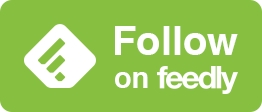 And don't forget to follow us on Feedly, too… Or on the RSS reader of your choice 🙂